Green thumb pays off
Lockdown hobby turns hairdresser into vegetable harvester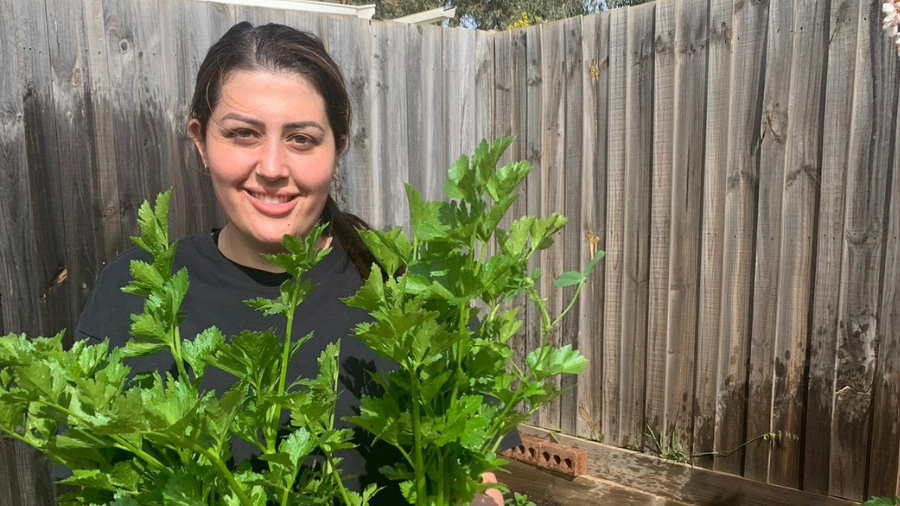 For Caroline Daoud, the sound of a summer thunderstorm rolling in means one thing: it's time to put the pots out.
Racing to beat the rain, Caroline hauls spare four litre pots onto the veranda. She's collecting water to use on her thriving vegetable garden – a hobby that grew out of Melbourne's first lockdown.
"My mum's always laughing and yelling at me when I'm running outside but its free water and better for the garden than the tap," explains Caroline.
Two years ago, the full-time hairdresser entered lockdown armed with a tomato plant, a strawberry plant and 3 different herbs. They were the first spots of green to sprout from her newly formed garden bed.
If you had told the Mernda local that she would end up harvesting baskets of broccoli and forearm sized cucumbers, she might not have believed you.
"I had no experience, and my backyard was shocking, it was basically a big patch of dirt," she says.
That patch of dirt has since grown to into a plot full of thirsty garden beds. With every new addition wanting a drink, Caroline's water use has increased too.
"I started the garden to grow some of my own food, it's more sustainable but if I ended up wasting water then that wouldn't make any sense," says Caroline.
Having grown up during Melbourne's millennium drought, the new gardener knew the flow of fresh drinking water wasn't endless.
"I was only a kid, and I was in the city, but I can still remember seeing those pictures of the ground when it gets all cracked," she recalls.
Today, Caroline's mission to make every drop count is not always as elaborate as running into the rain to lay out stormwater pots.
Fancy irrigation systems or sprinklers aren't an option for her plants. Instead, she waters by hand when they need it and only at night to reduce evaporation.
"I know exactly how much water they are all getting without drenching the whole backyard," she explains.
The soil choice and planting process matters too, keeping water bill money in her pocket and time on her side.
"I started mulching to keep the soil moist and it saved me from watering every day, now I can do it every second or every third night," she says.
"I learnt about soils and their water retention abilities, and I tried to pick the ones that wouldn't dry out as soon as the sun came up."
Despite the learning curve, childhood memories of gardening in Egypt with her great grandmother inspired Caroline to keep growing.
"I have a really vague memory of when I visited, I think I was around six and I remember picking capsicum with her," she says.
"People say the green thumb thing is in your blood, so I think I naturally got the hang of it really well."
It's not all about the practical tips, either. The journey from gardener novice to green thumb has changed how Caroline thinks about the drops that make it into her soil.
"It's amazing to see how one seed can grow into 25 cucumbers," she says.
"Every time I go outside and see something different, I'm like "oh my god, look what's happened!" and water makes all that possible".
Watching seedlings grow into the food on her plate imparted a newfound appreciation for the life-giving resource.
Now, this gardener is doing her part to ensure Melbourne will have enough water to keep growing healthy, fresh food for a long time to come.