Zoos Victoria Water Recycling Plant
Zoos Victoria are industry leaders in water conservation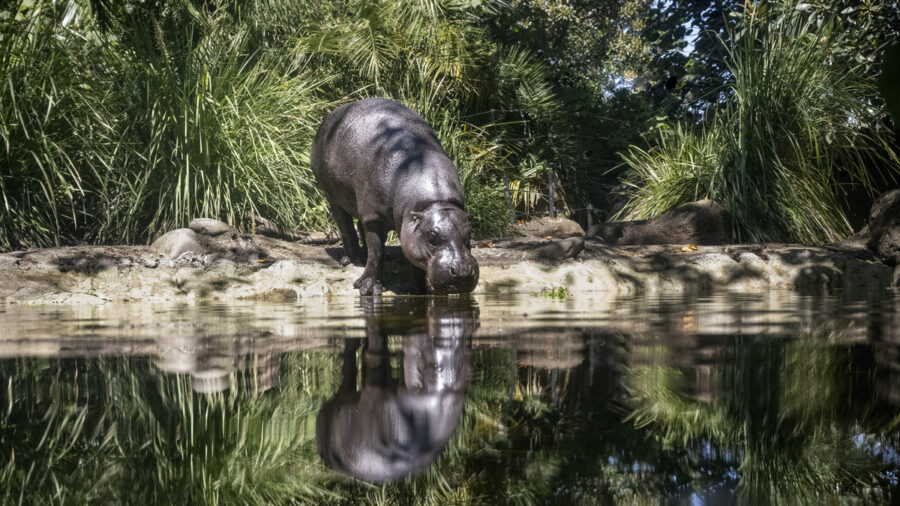 Did you know the elephants at Melbourne Zoo are frolicking in recycled water, processed through an onsite plant?
It's just one of the ways Zoos Victoria, which also manages Healesville Sanctuary and Werribee Open Range Zoo, is making waves in the ways they make every drop count.
Melbourne Zoo's Acting Sustainability Supervisor and Environmental manager Ben Zarb says water and waste management is a vital part of their work. Water is an essential resource for sustaining life, and the zoos have a lot of different forms of life to sustain!
Pioneers in multiple conservation projects, Melbourne Zoo's Sustainability team are responsible for the Zoo's Water and Waste Management. This includes running a Water Recycling Plant, operating several aquatic life support systems, irrigation control, managing a multi-use recycling facility  and on-and-off-site waste collection from all three Zoos.
Zoos Victoria promotes an understanding of the relationship between clean water and thriving ecological environments.
Water is a significant focus for Zoos Victoria as a whole. By greatly reducing how much water Melbourne Zoo actually uses the sustainability team ensures no drop goes to waste. The Zoo recycles backwash water through the water recycling plant, rather than discharging it through trade waste. Stormwater runoff, animal exhibit washdown water and animal pool water are contained on site instead of being discharged off-site.
The Water recycled through the state-of-the-art on-site recycling plant is high quality, – suitable for use in irrigation of the Zoo's gardens and the refilling of the elephant pools, hippo ponds, Orangutan moat, the lakes and many other water bodies throughout the Zoo. The recycled water replaces about 50% of the drinkable water formerly used to water the gardens.
Not just that, but producing recycled water costs approximately half the price of drinking water.  Saving water is a group effort that reaps greater results the more we do individually.
"It's really the small things that add up when lots of people are participating – so having short showers, using water-saving showerheads, installing rainwater tanks at home, diverting washing machine water to lawns where possible, watering gardens in the evening during summer, planting native plants in your garden, all the little things add up to big water savings," Ben says.
Visitors to the Zoo can peek through the windows of the water recycling plant and learn a little more about how it operates.
Victoria's Zoos are the first in Mainland Australia to be powered by 100% renewable energy with Melbourne Zoo being the world's first carbon-neutral Zoo.
They are industry leaders in water and waste management with the water recycling plant saving at least 100 megalitres each year, that's the equivalent of 40 Olympic size pools!
Fighting animal extinction is a priority mission of Zoos Victoria.  
"At the risk of being all doom and gloomy… water is our most precious resource on earth, humans require clean water for survival, our flora and fauna also do. Here at Melbourne Zoo, we are committed to protecting as much wildlife as possible and often a big part of that is protecting their habitat."
Zoos Victoria takes a rounded approach to maintaining and preserving our ecosystem, using renewable energy, reducing landfill waste and keeping water efficiency and management at the centre of it all.
"We strive to educate and influence in the sustainability and conservation space; we're committed to protecting our habitat and wildlife with water playing a big part of that." Ben says.